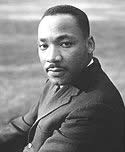 "The revolution for human rights is opening up unhealthy areas in American life and permitting a new and wholesome healing to take place," Dr. Martin Luther King once told a racially-mixed audience. "Eventually the civil rights movement will have contributed infinitely more to the nation than the eradication of racial injustice."

Congresswoman Barbara Lee Remembers Martin Luther King


By James Butty
Washington, DC
16 January 2006

listen to the interview with Congresswoman Barbara Lee
U.S._King_Eng2Afr1.mp3
Today is a holiday here in the United States honoring the late civil rights leader Dr. Martin Luther King, Jr. In an interview with Voice of America reporter James Butty, US Congresswoman Barbara Lee remembers Dr. King as a person who changed the course of history -- not only for African Americans, but for all Americans and for the entire world. "Dr. King not only stood for justice and equality; he also stood for peace. He was against the Vietnam War; he worked hard against the Vietnam War. He knew that that war was wrong, and I think we need today to look at the lessons and remember Dr. King's life and legacy -- and every day, not just on his birthday. There are many who lift him up on his birthday but then do just the opposite each and every day in their lives."
On what she thinks Dr. King would say today about race relations in the United States, Congresswoman Lee says Dr. King was against the system of government that allows so many people to live in poverty. "We have over 37 million people now living in poverty, and when you look at Katrina, I was down there this weekend. The devastation that the hurricane wreaked upon African Americans -- seventy percent of those who were displaced were black. The majority were poor.
So I suspect that Dr. King would be very disappointed and would say that we would have to work more vigorously to change laws, to reorder our budget priorities so that resources can be placed into education and to creating livable communities and into universal health care. And I would suggest that he would say that until we did that and stop funding this huge military budget, the people in America would continue be divided based on class and race."

http://www.voanews.com/english/Africa/2006-01-16-voa38.cfm

Beyond Vietnam and Iraq


Martin Luther King and the Deeper Malady


By SAM HUSSEINI
January 16, 2006

I can't count the number of times someone has told me that the antiwar movement is going great because it's so far ahead of "where we were in Vietnam." That is, the notion that we should compare the timeline of US intervention in Vietnam and that of Iraq.

It's a thought designed to make one feel good, to say that there is progress when a closer examination would indicate otherwise. A big problem with this line of reasoning is that it implies that the U.S. government attack on Iraq began in 2003. Of course it didn't; you had the U.S. bombing of the infrastructure of Iraq and imposition of sanctions in 1990-91. The sanctions were maintained throughout the first Bush administration, through two Clinton administration and remained virtually invisible through 9-11. But somehow activists in the U.S. are supposed to be happy with how much better we're doing than "during Vietnam."

The self-congratulations is also dubious when bearing in mind these words of Martin Luther King Jr. in his "Beyond Vietnam" speech:

"The war in Vietnam is but a symptom of a far deeper malady within the American spirit, and if we ignore this sobering reality...and if we ignore this sobering reality, we will find ourselves organizing 'clergy and laymen concerned' committees for the next generation. They will be concerned about Guatemala and Peru. They will be concerned about Thailand and Cambodia. They will be concerned about Mozambique and South Africa. We will be marching for these and a dozen other names and attending rallies without end, unless there is a significant and profound change in American life and policy. And so, such thoughts take us beyond Vietnam, but not beyond our calling as sons of the living God."

The sad fact is that the Vietnam War happened, and seemed to end, but that there was no serious addressing of the deeper malady; it festers and grows and is even invisible as we pretend to congratulate ourselves.

Sam Husseini's webpage is www.husseini.org

Many kids never hear King speech


Jan 15, 2006


WASHINGTON, DC, United States (UPI) -- A copyright on audio tapes of the Rev. Martin Luther King Jr.`s 1963 'I Have a Dream' speech means many students never get to hear it.

Educators and historians say that is affecting the legacy of the civil rights leader, The Washington Post reported.

'It lessens the historical saliency of King for younger kids,' said Robert Brown, assistant dean of undergraduate education at Emory University in Atlanta.

All of King`s speeches and papers are owned by his family, which has gone to court several times since the 1990s to protect its copyright.

When King was killed, his family was left without much money. The family earns income from licensing his image and charging fees for the use of his speeches, the newspaper said.

The family`s Web site says videotapes and audiotapes of the speech can be purchased for $10. Many schools, however, don`t know what materials are available.

Many schools use the text --often taken in violation of the copyright from the Internet. The King family, however, wants teachers to use the speech and has not pursued legal action against educators, said Clayborne Carson, director of the Martin Luther King Jr. Research and Education Institute
.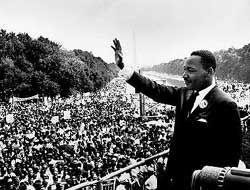 martin luther king jr.: Jan. 15, 1929-April 4, 1968

The measure of a King

We all know about his famous "I Have a Dream" speech and his fight for civil rights. But how much do you really know about the Rev. Martin Luther King Jr.? Read on . . .


• Born Jan. 15, 1929, in Atlanta.


Big moment: The Rev. Martin Luther King Jr. acknowledges the crowd at the Lincoln Memorial before his "I Have a Dream" speech during the March on Washington, D.C., on Aug. 28, 1963. The march was organized to support proposed civil rights legislation and end segregation. - 1963 Associated Press file photo

• Given name was Michael. Changed to Martin when he was 6 years old.
• Graduated from high school at age 15.

• Received bachelor's degree from Morehouse College in 1948.

• Married Coretta Scott in Marion, Ala., in 1953.

• Received doctorate in theology in 1955 from Boston University.

• The first church he pastored was Dexter Avenue Baptist Church in Montgomery.

• After he gained national attention during the Montgomery bus boycott, King's stature increased significantly. In 1957, he made 208 speeches and traveled 780,000 miles.

• Created, along with other ministers, the Southern Christian Leadership Conference, of which he was elected president.

• In 1958, he wrote his first book, "Stride Toward Freedom," recollections of the bus boycott. While promoting his book in Harlem, he was stabbed.

• In 1960, he became co-pastor with his father of Ebenezer Baptist Church in Atlanta.

• Named Time magazine's Man of the Year in 1963.

• Won Nobel Peace Prize in 1964.

• Was arrested more than 20 times.

• In later years, his public opposition to the Vietnam War led to strained relations with the Lyndon B. Johnson administration.

• Took a break from planning a poor people's march on Washington in 1968 to help striking sanitation workers in Memphis.

• Felled by an assassin's bullet on April 4, 1968, at the Lorraine Motel in Memphis. James Earl Ray was later convicted of his murder.

• Four days after King was killed, Rep. John Conyers (D-Mich.) introduced legislation for a commemorative national holiday.

• President Johnson declared the day of King's funeral, April 9, 1968, a national day of mourning. All federal flags were ordered to fly at half-staff.

• Georgia Gov. Lester Maddox refused to close state government the day of King's funeral and did not attend the services. He called King an "enemy of the country."
• Little more than a year after King's death, his brother, Alfred Daniel, died in an accident in his home.

• His mother, Alberta Williams King, was shot and killed in 1974 while playing the organ at Ebenezer Baptist Church.

• On Nov. 2, 1983, President Ronald Reagan signed a bill making the third Monday of January a federal holiday in King's honor. Rep. Katie Hall, an Indiana Democrat, is widely credited with helping push the bill through the House of Representatives.

• During his civil-rights career, the FBI made surveillance tapes of King for years. Some allegedly detail Communist leanings and sexual exploits. By court order, these tapes will remain sealed until 2027.

• -- Compiled by The Star's Candace Johnson
• Sources: thekingcenter.org, nobelprize.org, ourgeorgia history.com, the Martin Luther King Research and Education Institute at Stanford University

Poll: King more revered in death
Jan 16, 2006


PRINCETON, NJ, United States (UPI) -- Martin Luther King may be regarded as the greatest civil rights leader of the 20th century but he is revered more in death than he ever was admired in life.

About 25 percent of U.S. workers had MLK Day off Monday, 20 years after King`s birthday became a federal holiday.

Gallup Polls conducted at the height of the 1960s civil rights movement listed King among the most-admired leaders of the American public just twice, in 1964 and 1965.

From 1963 to 1966, Democratic President Lyndon Baines Johnson was the most admired. Former Republican President Dwight D. Eisenhower topped the list in 1967.

Yet by the end of the century in 1999, King was the second most-admired individual among Americans after Mother Teresa, the Gallup Poll said.

Following King was John F. Kennedy, Albert Einstein, Helen Keller, Franklin D. Roosevelt, Billy Graham, Pope John Paul II, Eleanor Roosevelt and Winston Churchill.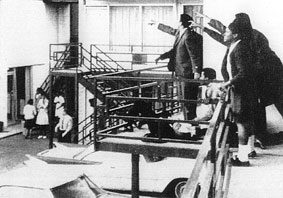 Martin Luther King Day
Contributed by: Bee

Martin Luther King Jr. Marking a Day in History .
He would have been 77 years old today. Martin Luther King, Jr. came into this world on January 15, 1929. By the time of his tragic exit on April 4, 1968, he had played a critical role in breaking the back of racial segregation in the U.S. and shaping the course of civil rights in this country. Today, as parades, speeches, and vigils commemorate that legacy, searches related to the slain leader are on the rise in Buzz.

Queries on every variation of Dr. King's name lead the way, and interest has mounted in his pictures, quotes, and speeches -- especially the legendary "I Have a Dream" speech and any video of it. Searchers have also sought out his widow Coretta Scott King, his convicted killer James Earl Ray, and background on his assassination.

We've recorded surges in "civil rights" and "civil rights movement," as well as "martin luther king day 2006," "mlk holiday," and "national holidays."

The swell of a thousand 8th-grade reports this week, or the power of association, perennially shine a spotlight on folks from the annals of black history and the civil rights struggle. Here's a sampling of some of the other Search spikes we've seen... Malcolm X

Rosa Parks
Jackie Robinson
George Washington Carver
Harriet Tubman
Abraham Lincoln
KKK
Jesse Jackson
Frederick Douglass
Nelson Mandela
Sojourner Truth
Booker T. Washington
Gandhi
Thurgood Marshall

A Duty to Heal


by Pius Kamau

Courtesy of Pius Kamau
Before coming to the United States in 1971, Dr. Pius Kamau studied medicine in Spain, England and his native Kenya. In addition to being a thoracic and general surgeon, he writes a column on African issues for the Denver Post. Kamau is currently organizing medical volunteers to work with him in Sudan.

Morning Edition, January 16, 2006

Growing up in the grinding poverty of colonial Africa, America was my shining hope. Martin Luther King's non-violent political struggle made freedom and equality sound like achievable goals. America's ideals filled my head. Someday, I promised myself, I would walk on America's streets.

But, as soon as I set foot in America's hospitals, though, reality -- and racism -- quickly intruded on the ideals. My color and accent set me apart. But in a hospital I am neither black nor white. I'm a doctor. I believe every patient that I touch deserves the same care and concern from me.

In 1999, I was on call when a 19-year-old patient was brought into the hospital. He was coughing up blood after a car accident. He was a white supremacist, an American Nazi with a swastika tattooed on his chest.

The nurses told me he wouldn't let me touch him. When I came close to him, he spat on me. In that moment, I wanted no part of him either, but no other physician would take him on. I realized I had to minister to him as best as I could.

I talked to him, but he refused to look at me or acknowledge me. He would only speak through the white nurses. Only they could check his body for injury. Only they could touch his tattooed chest.

As it turned out, he was not badly hurt. We parted strangers.

I still wonder: Was there more I could have done to make our encounter different or better? Could I have approached him differently? Could I have tried harder to win his trust?

I can only guess his thoughts about me, or the beliefs he lived by. His racism, I think, had little to do with me, personally. And, I want to think it had little to do with America, with the faith of Martin Luther King and the other great men whose words I heard back in Africa, and who made me believe in this nation's ideals of equality and freedom.

My hands -- my black hands -- have saved many lives. I believe in my duty to heal. I believe all patients, all human beings, are equal, and that I must try to care for everyone, even those who would rather die than consider me their equal.

http://www.npr.org/templates/story/story.php?storyId=5155332